Library
»
Learn with the Library
»
Annotated Bibliography: Interpersonal Victimization in the Military
Annotated Bibliography: Interpersonal Victimization in the Military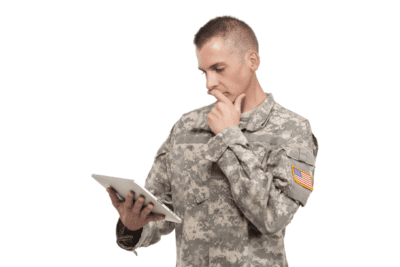 The Center for Victim Research Library provides access to research about people who experience interpersonal violence, including survivors in the military.
Methods
Searches were conducted in English in the CVR Library collection and limited to articles published during 2018 and 2020. Topics include military sexual trauma, intimate partner violence, and elder abuse experienced by military personnel, and secondary post-traumatic stress experienced by deployed clinicians. Articles are organized by topics (prevalence, consequences and coping, and the military context – challenges and strengths) and then by author's last name. Contact the CVR Research Librarian for assistance locating full text or additional articles.
Search Tips
Below are similar or related keywords for:
Military: Air Force, Navy, Army, Marines, Special Forces, deployment, combat
Servicemembers: Veterans, soldiers, troops
Victimization: violence, assault, harassment, abuse, crime, military sexual trauma, hazing
View an example search in the CVR Library.
Download
For the complete report with article links, download the full annotated bibliography: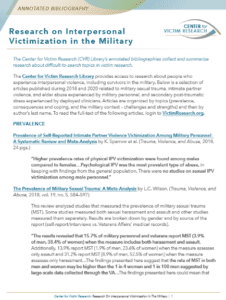 See more CVR Annotated Bibliographies.
Tags:
bibliography
,
interpersonal violence
,
military
,
reading research
,
victimization
,
workplace violence
« PREVIOUS
NEXT »