Library
»
Learn with the Library
»
Annotated Bibliography: The Impact of Restorative Justice Practices
Annotated Bibliography: The Impact of Restorative Justice Practices
Restorative justice practices offer an addition, or in some cases an alternative, to the traditional retributive justice system. Rather than focusing on punishment, restorative justice focuses on repairing the harm by engaging victims, offenders and their families, other citizens, and/or community groups in the process. Victims who participate in restorative justice typically express higher levels of satisfaction than those whose cases are handled in the traditional justice system. This annotated bibliography gathers research on the impact of restorative justice practices on victims, among other outcomes.
Methods
Searches were conducted in English in the CVR Library collection, Google Scholar, and the National Criminal Justice Reference Service. Most papers were published between 2009 and 2019, and this bibliography includes meta-analyses, journal articles, and program evaluations. Articles are sorted first by year and then by author. The research articles in this bibliography focus primarily on victim-offender mediation, victim-offender dialogue, and restorative justice conferencing. Contact the CVR Research Librarian for assistance locating full text or additional articles.
CVR staff thank Bailey Maryfield for her work compiling and summarizing the research in this bibliography.
Search Tips
Below are similar or related keywords for:
Restorative Justice: victim-offender mediation, victim-offender dialogue, restorative justice conferencing, family group conferencing, community reparative boards, reparative boards, victim impact panels, victim impact training, peacemaking circles, circle sentencing, apology banks
Recidivism: reoffending, repeat offending, rearrest, reconviction, recidivist, subsequent delinquent behavior
Victim Outcomes: satisfaction with the process, material restoration, emotional restoration
View an example of how to combine search terms to create a database search string.
Download
For the complete report with article links, download the full annotated bibliography: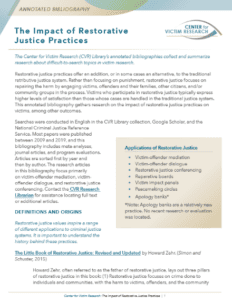 See more CVR Annotated Bibliographies.
Tags:
bibliography
,
reading research
,
restorative justice
,
victim services
« PREVIOUS
NEXT »