Library
»
Learn with the Library
»
Supercharge Your Search in CVR Library
Supercharge Your Search in CVR Library
The Center for Victim Research Library allows you to search in your own own words and find relevant research-based materials quickly. Want to find even more? Supercharge your search with these tips:
Place these search operators between your terms to focus your search results.
AND: all of these terms. Example: victimization AND trauma

OR: any of these terms. Example: programs OR services OR interventions

NOT: exclude this term. Example: survivor NOT earthquake

Parentheses: combine operators. Example: trafficking AND (shelters OR housing)
Use these special characters to focus or broaden your search.
Quotation marks: exact phrase. Example: "victim services"
Asterisk: word variations. Example: assist* finds assisted, assistance, assists
Download these tips to keep by your computer, and contact the CVR Research Librarian to work on a search together!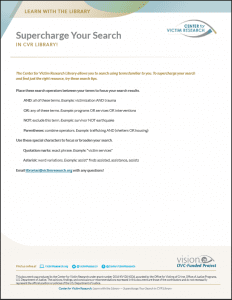 Video Tutorial
Watch this tutorial for a quick tour of the features of the CVR Library:

Tags:
boolean operators
,
database search
,
search tips
« PREVIOUS
NEXT »