Library
»
Learn with the Library
»
The Evidence Hour: Preventing and Reducing Violence Against Older Adults
The Evidence Hour: Preventing and Reducing Violence Against Older Adults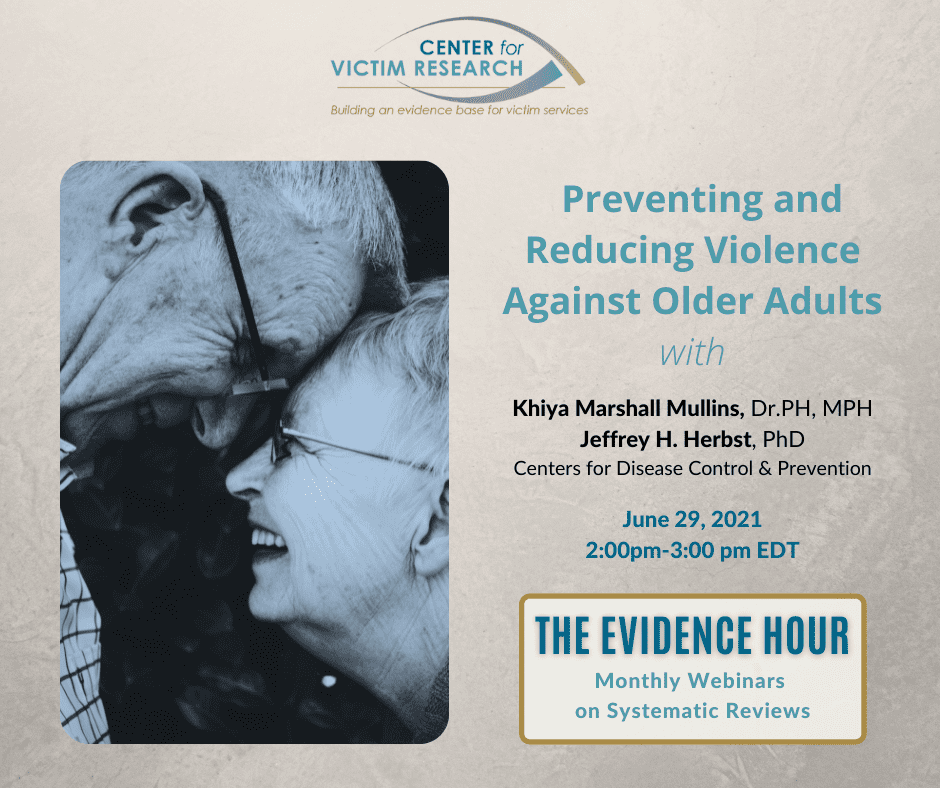 Center for Victim Research's webinar series, The Evidence Hour, showcases a recent systematic review* or meta-analysis about victimization, trauma, or victim services. Each webinar features an author of the research and a practitioner discussant who will review the findings and reflect on what they mean for victim service providers and researchers.
On June 29, Drs. Khiya Marshall Mullins and Jeffrey Herbst of the Centers for Disease Control & Prevention and Dr. Joy Ernst of Wayne State University discussed the state of research on elder abuse prevention and interventions. The related article is: "Do interventions to prevent or stop abuse and neglect among older adults work? A systematic review of reviews" by Khiya Marshall et al. (2020). in Journal of Elder Abuse & Neglect. [Email the Center for Victim Research Librarian for article access]. The recording is available here:

Related Research from the Center for Victim Research:
Related Research on Elder Abuse Interventions:
Related Resources from our Research2Practice Network:
*What are Systematic Reviews?
A systematic review is the process of bringing together all available studies about a well-defined question, analyzing the quality of their study methods, and summarizing their findings.
Systematic reviews often use a statistical practice called meta-analysis. This means combining data from multiple studies, to calculate the average effect of the intervention and find patterns.
Because systematic reviews pool results from many experiments and rate the methods of each study, these reviews increase our confidence in the quality and consistency of the evidence and what it means for the field.
Basically, systematic reviews take a large amount of information about a complex issue from multiple sources and make that information more manageable and usable. These reviews can also help make sense of conflicting findings from different studies.
Learn more from:
elder abuse
,
evidence hour
,
older adults
,
systematic reviews
« PREVIOUS
NEXT »