Library
»
Learn with the Library
»
The Evidence Hour: Bullying as a Developmental Precursor to Sexual and Dating Violence Across Adolescence
The Evidence Hour: Bullying as a Developmental Precursor to Sexual and Dating Violence Across Adolescence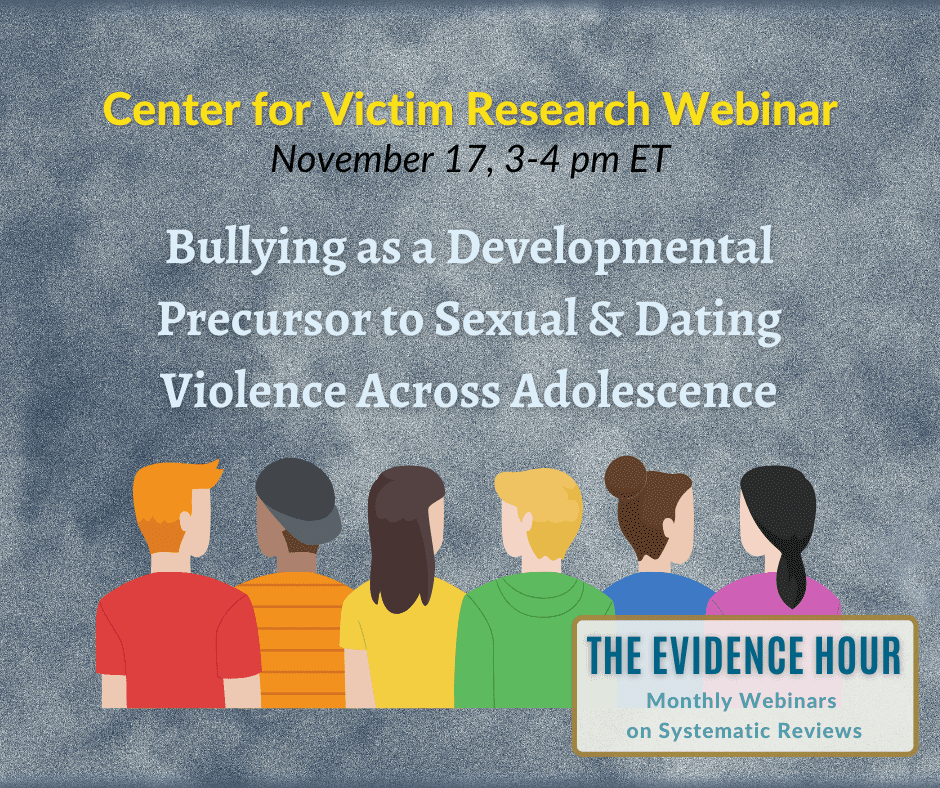 The Center for Victim Research's webinar series, The Evidence Hour, showcases a recent systematic review* or meta-analysis about victimization, trauma, or victim services. Each webinar features an author of the research and a practitioner discussant who will review the findings and reflect on what they mean for victim service providers and researchers.
On November 17, Dorothy Espelage Ph.D. shared findings from a literature review of ten years of research about the connections between bullying and teen dating violence and potential school-based interventions. Barri Rosenbluth, MSSW shared experience from the field on reducing violence among adolescents. The recording is available on the CVR YouTube channel:
This webinar is based on findings from the article: "Bullying as a Developmental Precursor to Sexual and Dating Violence Across Adolescence: Decade in Review" by Dorothy L. Espelage et al. (2021), Trauma, Violence & Abuse. (Read the full text of the open access article.)

Related Research:
"Bullying Trends in the United States: A Meta-Regression" by R.S. Kennedy. (2021). Trauma, Violence, & Abuse, 22(4), 914–927. (Link goes to dissertation, the first part of which  is the meta-regression. Abstract of the published version.) A meta-regression aims to make sense of conflicting outcomes from multiple studies; for example, Kennedy discusses how some studies find that bullying is decreasing, while others find bullying happening more frequently. This meta-regression reviewed 91 relevant articles to establish a more consistent rate of bullying, including face-to-face physical, verbal, and relational bullying perpetration and victimization and cyberbullying. Kennedy finds that cyberbullying has increased, and other subtypes have all decreased, though they are still more common than cyberbullying. Eighth graders and students in younger grades are more likely to experience cyberbullying than older students. The author also noted methodological differences, such as how using the word "bully" in surveys may affect reporting rates.
"What Works in Violence Prevention Among Young People?: A Systematic Review of Reviews" by A.G. Kovalenko et al. (2020). Trauma, Violence, & Abuse. This article includes 40 systematic reviews and meta-analyses from mostly North America. Interventions targeted sexual assault, dating violence, bullying, and anti-social behavior. Suggestions for improving programs included: longer duration, tailoring to specific ages and using a variety of media and interactive activities, using clearly defined terms about dating violence, involving students as peer mediators, and starting sexual violence prevention programs early. Includes a chart with specific curriculum and program takeaways.
Bullying Victimization and Trauma by T. Idsoe et al. (2021). Frontiers in Psychiatry. This article is part of a series about bullying by peers and family and discusses bullying-specific trauma symptoms and their relationship to PTSD. The authors also review research about changes to childrens' neurobiology following child abuse, bullying, and social exclusion and potential impacts on children's behaviors, such as difficulty regulating emotions and an "exaggerated need to defend oneself." The authors conclude that PTSD symptoms are not sufficient to account for consequences of bullying and emphasize the importance of making children feel safe and supported.
Related Resources from our Research2Practice Network:
*What are Systematic Reviews?
A systematic review is the process of bringing together all available studies about a well-defined question, analyzing the quality of their study methods, and summarizing their findings.
Systematic reviews often use a statistical practice called meta-analysis. This means combining data from multiple studies, to find patterns and calculate the average effect of the intervention.
Because systematic reviews pool results from many experiments and rate the methods of each study, these reviews increase our confidence in the quality and consistency of the evidence and what it means for the field.
Basically, systematic reviews take a large amount of information about a complex issue from multiple sources and make that information more manageable and usable. These reviews can also help make sense of conflicting findings from different studies.
Learn more from:
Tags:
bullying
,
evidence hour
,
peer-on-peer violence
,
teen dating violence
« PREVIOUS
NEXT »